Here's Why You Should Go for Solitaire Rings for Engagement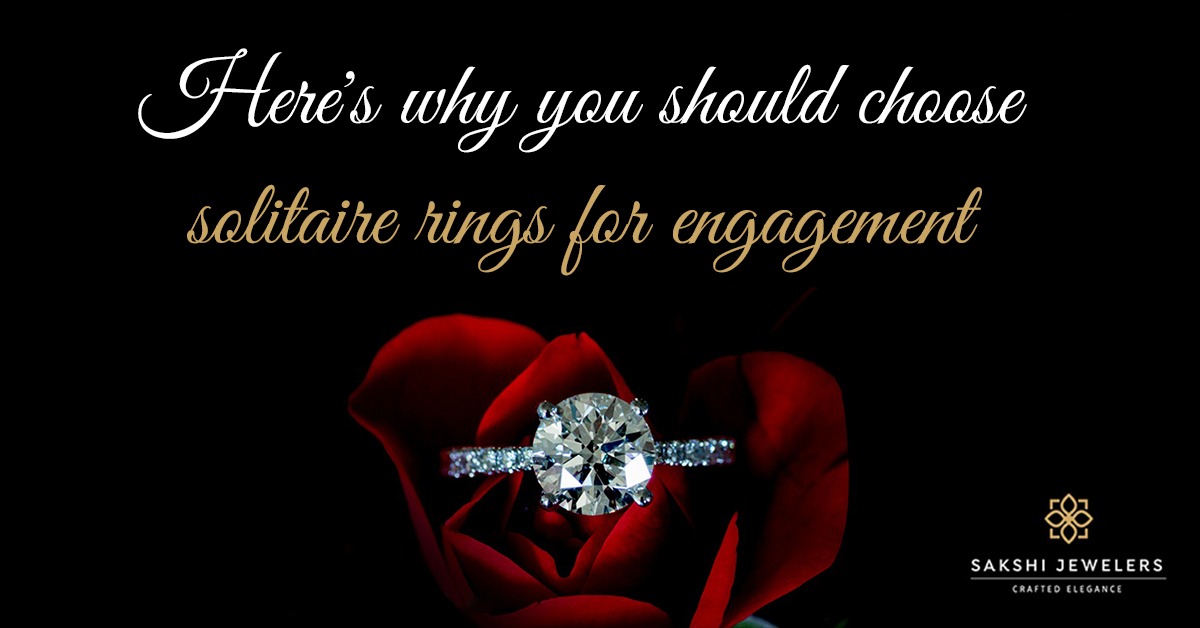 The first thing that leaps to our mind on hearing the word diamond is love, eternity, and a happily ever after. It symbolizes commitment and devotion. That's exactly why women are fond of diamond rings.
Now let's imagine:
It's your engagement. Your significant other has donned a lovely yellow lehenga, a tiny bindi, and a pair of exquisite jhumkas. But all you notice is her beautiful smile! A smile that can make your heart skip a beat.
This incredibly important woman of your life deserves every bit of happiness, doesn't she?
And the engagement ceremony would be etched in your hearts forever. Hence, you have to ensure it's extra special. How do you plan to make it a dreamlike experience?
Well, solitaire diamond rings are your answer! Yes, maybe you can offer just any ring on your engagement, but solitaire diamonds… they define love.
We know you won't buy one until we provide you with a valid reason. So, allow us to illustrate how solitaire diamond rings can make your woman go weak in the knees.
5 reasons why you should choose solitaire rings for engagement:
Solitaire Engagement Rings are a Classic
Let's go back to imagining. Picture an engagement ring… what does it look like? It's probably a ring that features a dainty platinum / white gold band with a single studded diamond. That's exactly how solitaire diamond engagement rings look. Timeless and quintessential! Once you place the ring on her finger, she won't ever second guess the depth of your feelings.
Solitaire Diamond Rings Steal the Show
If you ever find yourself questioning the popularity of diamonds, you should probably stop yourself right there. The creation of a diamond is in itself an inspiring journey. The entire process of coal turning into a diamond takes over 1 billion years.
It faces immense pressure before transforming into an impeccable and dazzling stone. Thus, diamonds are a luxury, and thus diamonds attract all the attention.
Solitaire Rings Feature Simple Designs
Millennials are known to take the minimalist approach. Instead of the ones intricately designed, they prefer jewelry made for comfort. However, if you're someone who gravitates towards elaborate designs, fret not. At Sakshi Jewelers, we offer an extensive range of solitaire engagement rings, designed to suit different tastes and preferences.
Solitaire Diamond Engagement Rings are Versatile
Solitaires are exceedingly versatile. Your significant other can pair it with almost every wedding band. Engagement rings do not represent a specific style, hence one can choose to go classic, vintage, or contemporary with their band.
There are no limitations with the metal band of your engagement ring as well. Solitaire diamonds look stunning with white gold, yellow gold, platinum, and/or rose gold.
Men Can Even Shop Solo
Although it's best that men bring their lady love along while buying an engagement ring, you can also visit our Indian diamond jewelry store alone if you wish to surprise her. But if you do choose to go solo, we would recommend you to opt for a solitaire diamond ring. It is your best bet since no woman would ever say a "no" to solitaire rings.
Can't visit our Indian jewelry store in Dallas due to the pandemic? Checkout our engagement rings collection online. You can also book a video appointment, and we will help you choose from an array of the best solitaire engagement rings for the love of your life. All our products come with GIA and IGI certification as well as a lifetime warranty. We guarantee to offer the best deal across North America.