7 Reasons Why Diamond Jewelry Makes the Best Gift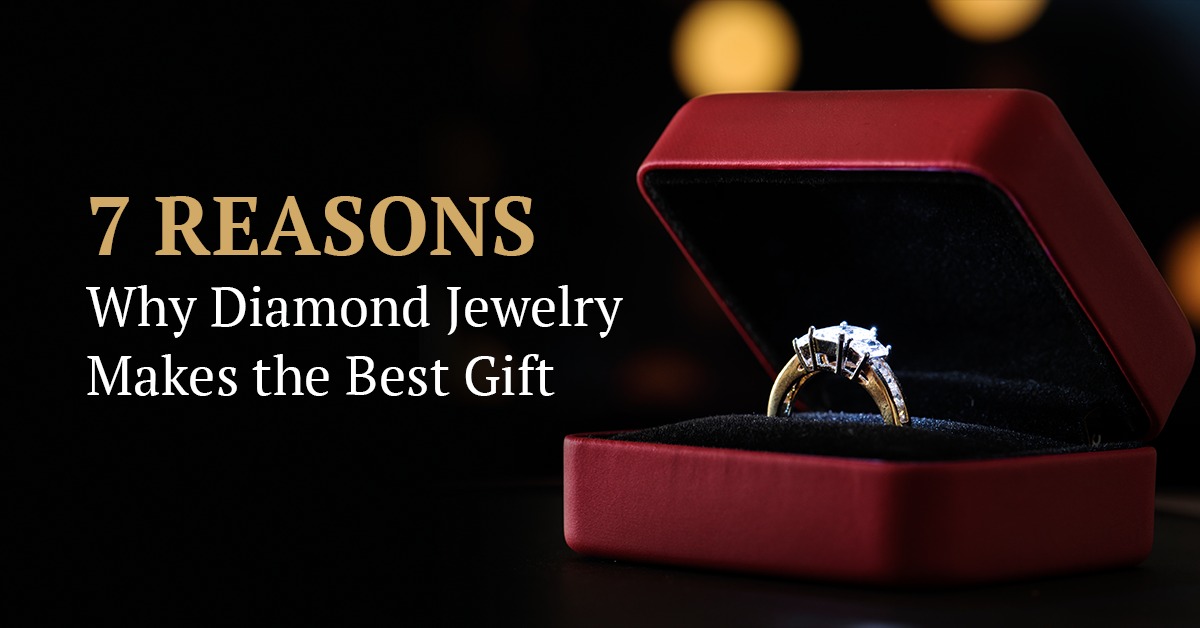 What's sparkling, precious, and can make a woman's eyes light up with joy? You guessed it—a diamond! Everyone's heard that diamonds are the gift to outshine all others, no matter the occasion.
But have you ever wondered what makes these darling stones so extraordinary? Here are 7 reasons why diamonds are the perfect gifts.
Diamonds are forever
Cliché as it may sound, this statement rings true in every sense of the word. Diamond jewelry is not your run-of-the-mill gift. Each uniquely crafted piece is a treasure in itself and becomes a family heirloom passed on for generations.
As the hardest substance on Earth, a diamond's timeless beauty is not marred by age—they don't fade, lose their lustre, or get worn out. In fact, they are solid investments that only gain value over time!
A class apart
Diamonds are the very definition of luxury due to their rarity. From the Kohinoor to the Cullinan, they have been an obsession of royals around the world for centuries. To gift a diamond is to offer the same indulgence to your loved one.
As for their sentimental worth, that's beyond compare!
Token of love
Diamonds have been a universal symbol of eternal devotion and love since Roman times. While their radiance is a tribute to the beauty of love, their indestructible nature stands for commitment through thick and thin.
These gems are ideal to mark any important event like proposals, anniversaries, birthdays, and Christmas.
Versatile & perennially chic
Diamond jewelry is the one accessory that never goes out of style or looks out of place. From a cocktail number to business formals, they complement and elevate any outfit.
And that's why Indian diamond jewelry is a no-brainer for the fashionistas in your life!
Customizable Jewelry
Nothing beats the combination of customized jewelry and diamonds to win over a dear one. You can engrave a quote, a memorable date, or a love message on a ring, bracelet, or pendant of your choice to make the gift much more special.
No Such Thing as Too Many Diamonds
Need we say more? It's impossible to go wrong with gifting diamonds because people can never have too many of them!
Moreover, with a multitude of cuts, shapes, and settings, there is an incredible number of designs to choose from. This keeps the magic of the present alive regardless of whether it's the first time or the hundredth.
Replaceable Settings
Any inset diamond can easily be transferred from one jewelry setting to another. Thus, you can keep the crowning glory intact while switching up between ornaments.
Truly gives a whole new meaning to the multifaceted nature of the stone, and even takes off the pressure of choosing the absolutely perfect piece the first time around!
All these reasons all but prove that the 'D' in diamonds stands for 'delight'! So, if you're on the lookout for an unforgettable present for a special someone, these classic gems are your best pick.
Looking for a jewelry store in USA to buy this priceless gift? At Sakshi Jewelers, we offer a vast collection of GIA and IGI certified Indian diamond jewelry at the best deals across North America.