5 Reasons Why Customised Design Jewellery Is The Best Option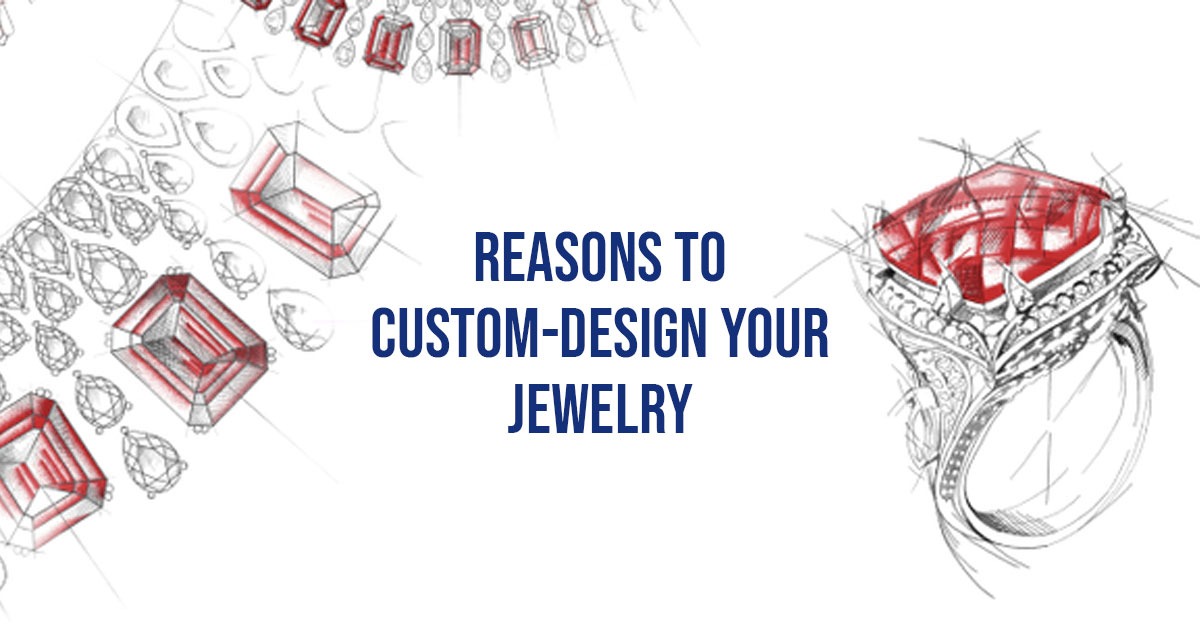 Jewelry designing is a true art and making jewelry is a craft. Both of these go hand in hand. Today, custom made jewelry has become one of the hottest trends as people seek out creative ways to express themselves. And jewelry can be one of the best ways to highlight your personality. So, custom designing allows you to add a personal touch to it.
A signature piece of adornment not only makes the ultimate accessory but is also a fabulous way of declaring your love and appreciation. It is a timeless way of investing in the important people of your life… because no one but only your loved one would have that piece.
Still not convinced? Alright, here are a few solid reasons that will help you understand the numerous benefits of custom-designed jewelry.
It is Tailored to You
Custom jewelry is a piece of adornment that is solely created for the individual who will be wearing that piece. If you have the spark of an idea in your mind, then the jeweler can craft a magnificent piece of jewelry according to your taste and needs. And this piece of art will embody you.
Designed from Scratch
Have you heard about customized and custom-designed jewelry? Well, here there's something you need to understand: customized and custom made jewelry are two completely different concepts. Customized jewelry is where you're given a list of options or patterns out of which you choose one. Or maybe say, you want to engrave someone's name or build a piece with the available options. These would be meaningful and beautiful pieces of customised jewelry. On the other hand, custom jewelry is designed from scratch, and the design is used only once. For example, you want to rework the gemstones or diamonds from an Indian diamond necklace. Or let's say you saw a pair of earrings online and thought of tweaking the design as per your taste. Anything that requires you to start from zero is custom jewelry.
Value for money
Custom design for a piece of jewelry allows for the creation of a unique, special item that still fits in a budget. With the increasing cost of living, the price of precious metals also increases and so does the worth of custom-made jewelry. This also means that the recipient of the custom-made jewelry has something worth holding on to.
Sentimental Value
When it comes to custom-designed jewelry, the sentimental and emotional value is even greater for both the giver and the receiver. The design of the piece is often based on emotions, bond, relationship, ideas or even memorable moments, making it priceless. Custom jewelry always has the power to invoke a mix of emotions and hence will be a fond memory for a lifetime. It will demonstrate your ethereal love in the purest way. You can custom make any types of ornaments, be it Indian diamond jewelry like solitaire diamond rings or bracelets.
Quality and creativity meet hands
Usually, when you purchase jewelry from the options available at the jewelry store, they're all machine-made and manufactured in bulk in the same pattern. Whereas in the case of custom designs are handcrafted, bringing every inch of the jewelry to life.
Well, now the conclusion seems quite clear that custom design jewelry is a win-win option for everyone. We, Sakshi Jewelers understand that custom design jewelry is incredibly personal, irreplaceable and has a great sentimental value. If you are on the lookout to create a stunning custom-made piece of jewelry, we have a team of exceptionally creative and skilled craftsmen who'll add a hint of elegance to your special item. Share your design and leave the rest to us.