The Ultimate Guide to Diamond Solitaire Necklace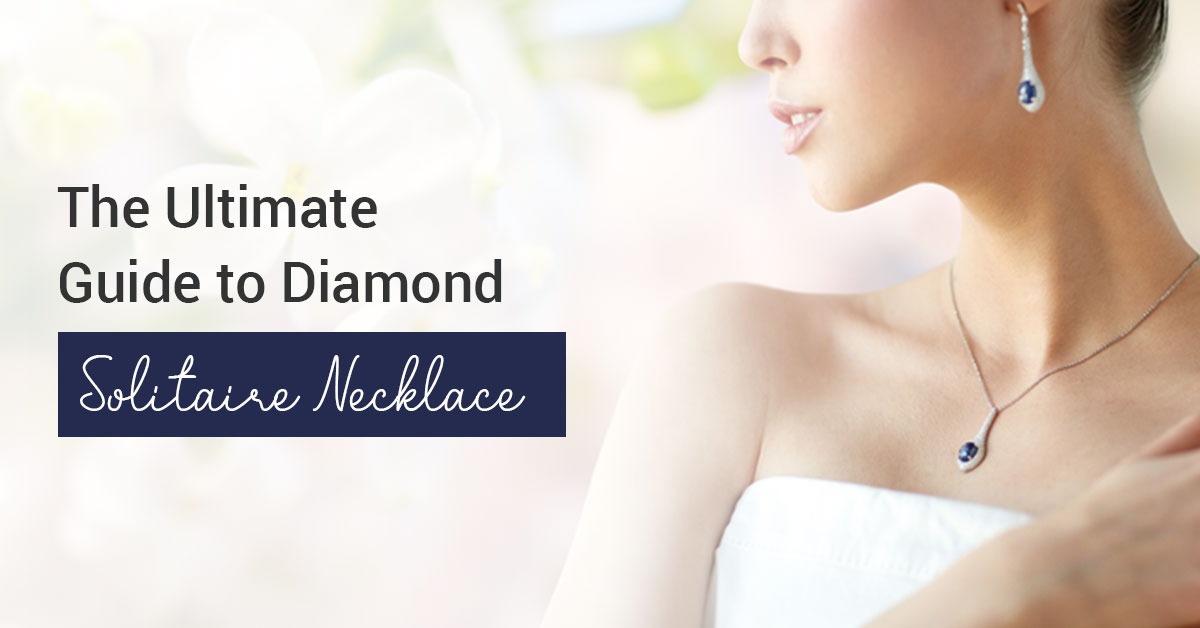 A diamond solitaire necklace is a popular piece of fashion accessory among women across the globe. They exist in the form of exquisite elegance to eye-binding fashion statements that are grand enough for a Hollywood-style red carpet entrance. Diamond solitaire necklaces can draw attention towards the wearer's face and enhance their outfits. Nevertheless, choosing the right design to match your style requires careful consideration.
For people with a greater disposable income, diamond pendants can also be a sign of higher status, prestige, and wealth. Regardless of your purpose of buying a diamond necklace, we created a comprehensive guide that states some important points you need to take note of.
The difference between a pendant and a necklace
There is a myth among people that necklaces and pendants are the same and the terms are used interchangeably. However, the terms should not be confused to be the same. A pendant is a small piece of diamond that is attached to a chain and can be worn on different parts of your body such as a necklace, anklet, or bracelet.
A necklace is a distinct piece of jewelry that is only worn on the neck and usually consists of a precious metal jewelry chain. Necklaces can consist of a series of gemstones that are linked together on a chain or can be entirely plain without any gemstones.
Ensure you understand the basics of the 4Cs
While you do not need to possess expert knowledge on buying a diamond, a robust understanding of the 4Cs (color, cut, clarity, and carat) can make the buying process much simpler. Here's how the experts at Sakshi Jewelers recommend prioritizing the 4Cs.
First and foremost, the cut should be your number one priority. A well-cut diamond will showcase a high level of brilliance that will catch people's attention and make the stone look lively.
The second priority should be the diamond's size. Since a solitaire necklace is worn on the neck, an average person will have a further viewing distance of the jewelry. Therefore, size matters in such scenarios.
For color and clarity size, you can go down to an SI clarity range and lower grade like J or I. This is done for practical reasons and to help you save money while buying a diamond of a larger size.
What diamond shape should I choose for my pendant?
The princess and round brilliant cut diamonds are two famous choices when it comes to selecting pendants. If you want to opt for a quirky design, a diamond or a heart-shaped pendant in a solitaire setting can also be made in a timeless piece of jewelry. However, if you aren't sure, you can always choose a princess or round brilliant cut diamonds as these are evergreen shape styles and nicely match different styles.
Do you need a grading report for your diamond purchase?
A grading report is an evaluation of the diamond's characteristics. This assessment is carried out by reputable establishments like GIA and AGS where they have consistent and strict grading standards. Therefore, you must check if the diamonds are GIA and AGS certified to ensure that they are of the highest quality.
What are the design considerations to take into account?
If you are planning to buy a diamond solitaire necklace for someone else and not yourself, it can be tough to know their preference unless the person is very close to you. You can look at their social media profiles to understand what they like or look through their jewelry to see a particular style they do not own.
What are the best places to buy a diamond solitaire necklace?
Choose a reliable and reputable broker like Sakshi Jewelers for buying high-quality and authentic diamond solitaire necklaces. Along with a huge collection of GIA/AGS certified diamonds, Sakshi Jewelers also has a superb range of jewelry settings at competitive prices.